La mine in baie, de cativa ani, am pus pe usa o foaie printata intitulata "You know you're taking skiing beyond extreme when …", care s-a cam stricat si m-am hotarat sa o refac.
Este o lectura instructiva si generatoare de inspiratie. Iata textul complet, scanat in starea de acum: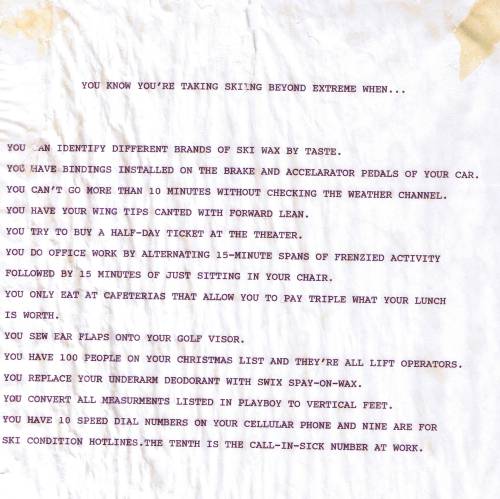 YOU KNOW YOU'RE TAKING SKIING BEYOND EXTREME WHEN …
YOU CAN IDENTIFY DIFFERENT BRANDS OF SKI WAX BY TASTE.
YOU HAVE BINDINGS INSTALLED ON THE BRAKE AND ACCELERATOR PEDALS OF YOUR CAR.
YOU CAN'T GO MORE THAN 10 MINUTES WITHOUT CHECKING THE WEATHER CHANNEL.
YOU HAVE YOUR WING TIPS CANTED WITH FORWARD LEAN.
YOU TRY TO BUY A HALF DAY TICKET AT THE THEATER.
YOU DO OFFICE WORK BY ALTERNATING 15 MINUTE SPANS OF FRENZIED ACTIVITY FOLLOWED BY 15 MINUTES OF JUST SITTING IN YOUR CHAIR.
YOU ONLY EAT AT CAFETERIAS THAT ALLOW YOU TO PAY TRIPLE WHAT YOUR LUNCH IS WORTH.
YOU SEW EAR FLAP ONTO YOUR GOLF VISOR.
YOU HAVE 100 PEOPLE ON YOUR CHRISTMAS LIST AND THEY'RE ALL LIFT OPERATORS.
YOU REPLACE YOUR UNDERARM DEODORANT WITH SWIX SPRAY-ON-WAX.
YOU CONVERT ALL MEASURMENTS LISTED IN PLAYBOY TO VERTICAL FEET.
YOU HAVE 10 SPEED DIAL NUMBERS ON YOUR CELLULAR PHONE AND NINE ARE FOR SKI CONDITIONS HOTLINES.THE TENTH IS THE CALL-IN-SICK NUMBER AT WORK.